Kloe Spiral staircases
Kloe Spiral Staircases.
Below you can see the Kloe Spiral Staircase in silver with dark timber treads.
The Kloe Spiral staircase is available in 1200mm 1400mm and 1600mm diameters aswell as being available in a selection of colours.Phone 01952 608853 With the Diameter and Floor to Floor Height for a Quotation.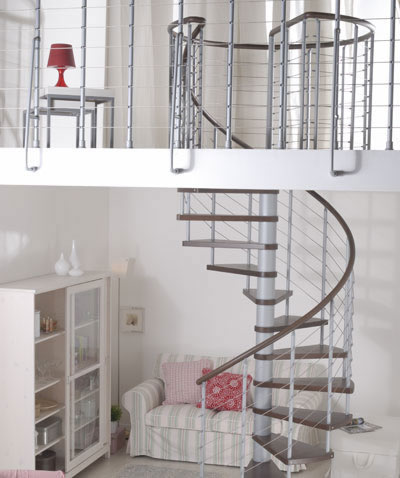 Showroom - Kloe Spiral staircase Section on Display
Stairplan Ltd , Hortonwood 1 , Telford , TF1 7GN, 01952 608853
Kloe Spiral Staircase - Above in Silver and dark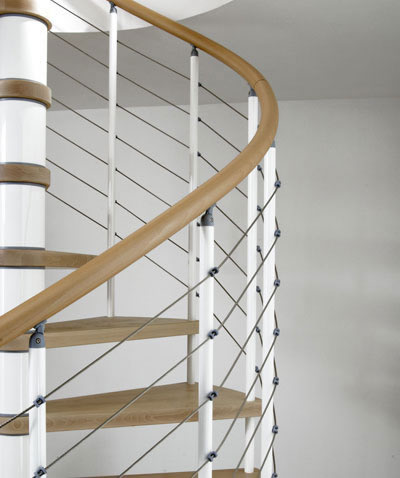 The handrail detail on the kloe staircase uses wires rather than vertical balusters as found on the klan spiral staircase - This handrail detail does not meet UK building regulations, but with spiral staircase kits failing to meet the uk building regulations in many areas this may not be a concearn in your installation.
The Kloe Spiral Staircase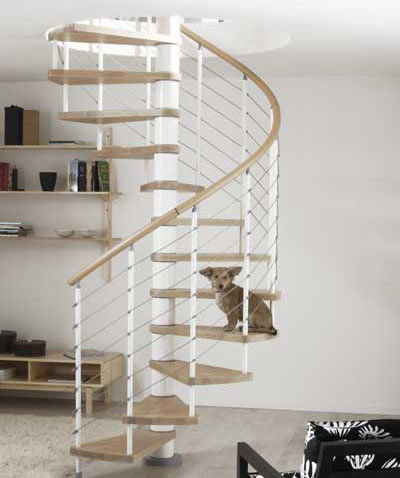 The kloe spiral staircase in White with Light or Natural timber treads.
The Kloe spiral staircase from the Arke range uses simple spacers in between each tread to give you a adjustable height.
KLOE'staircases are characterized by a landing which is adaptable during the installation to openings of any shape or size.KLOE' has an adjustable height between 2530 and 3060 mm.
The diameters of the staircase are 1200,1400 and 1600 mm.The recommended ceiling apertureis at least 50 mm larger than the diameter of the staircase.Example :Ø staircase 1200 mm = Ø aperture 1250mm.
Typical delivery on these is 2 to 3 weeks
Avaiable in 1200, 1400 and 1600mm diameters.
The Standard Kit comes with 12 treads and a universal platform giving you a total of 13 risers.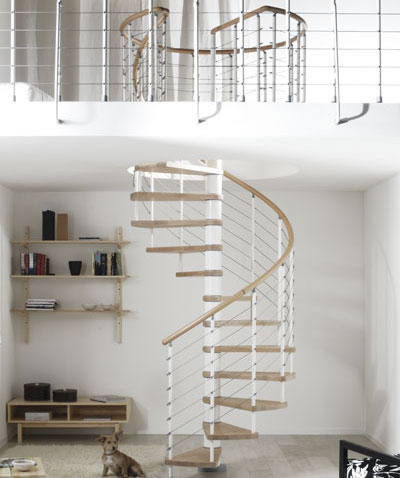 Landing balustrades are also available.
Working out where the spiral starts and finishes
Look at the following Layout images
Klan 1200mm Spiral Staircase Plan
Klan 1400mm Spiral Staircase Plan
Klan 1600mm Spiral Staircase Plan
When it comes to working out the number of Risers required the Italian Spiral staircase kits work best with a individual rise height between 210mm and 235mm, UK Building Regulations require a Rise height no higher than 220mm But in many cases to get one of these to work you will have to go over this rise height, Remember these spiral staircases are designed for the european Market as a whole and not just the UK market. If your building control officer is offering no lenience then I suggest forgetting a spiral Staircase and go for a Double Winder Staircase.

Reversable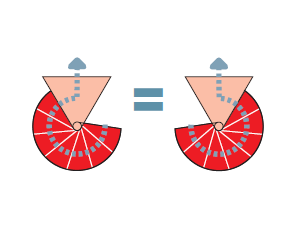 The direction of rotation,whether clockwise or anti-clock-wise,can be decided during the installation.
Adding Additional Risers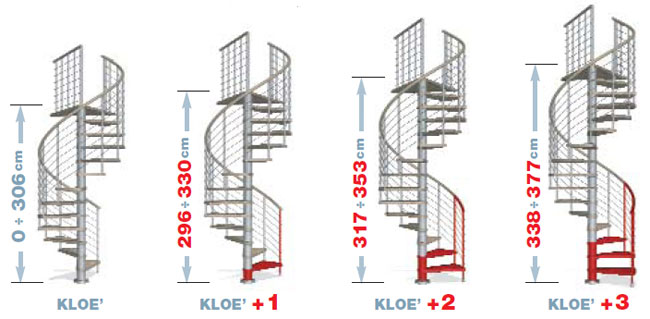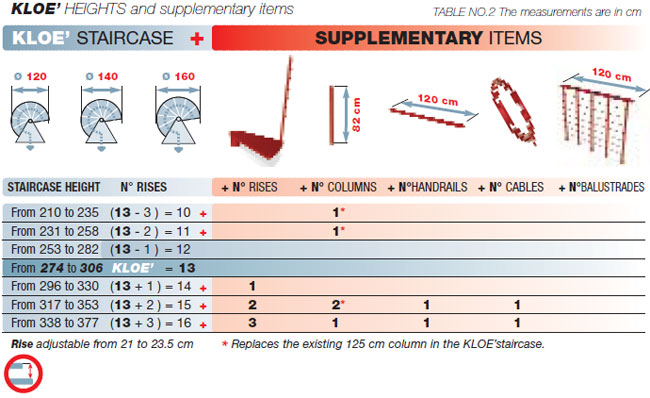 By purchasing one or more supplementary RISES, the height of the staircase can reach 3770 mm Supplementary rises consist of structure,tread and balusters.If you add or subtract rises to the staircase,it is necessary to purchase supplementary 820 mm COLUMN modules
If two or more rises are added to the staircase it will be necessary to purchase supplementary 1200mm HANDRAIL modules. If two or more rises are added to the staircase it will be necessary to purchase supplementary CABLE. It is in stainless steel andmeasures 11 meters.The supplementary BALUSTRADE is necessary to protect the upper floor aperture.It comes in 1200 mm scalable modules comprising 5 balusters, cables, handrail and fixings.The balustrade can also assume a circular shape.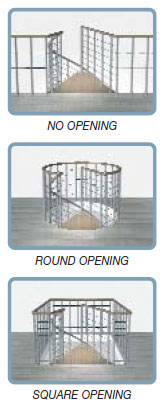 Selection of Colours

Circular Staircases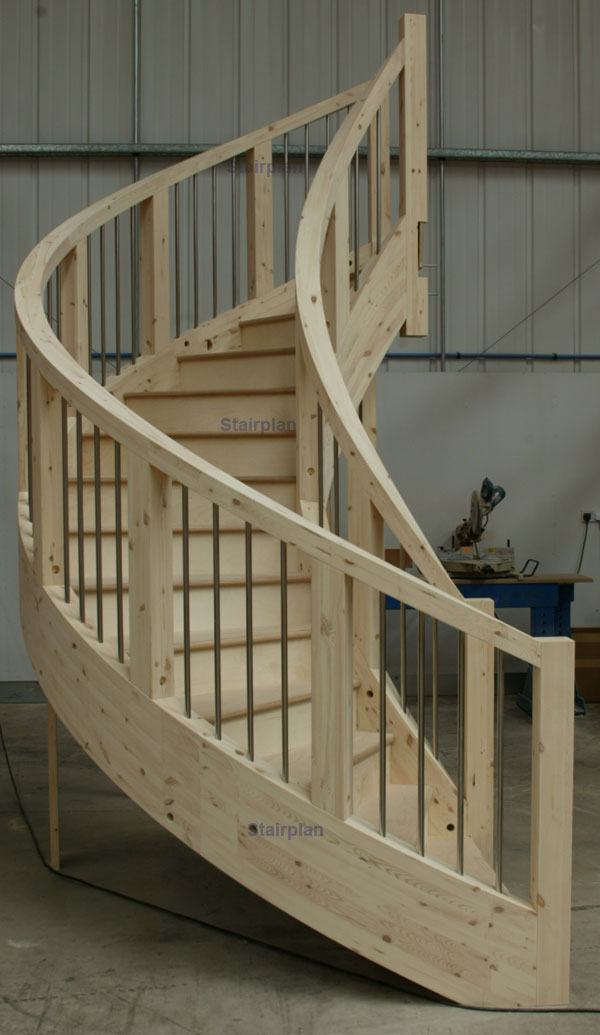 Stairplan produce Circular Staircases in our UK Production facilities