At Stairplan we produce a full range of Wooden staircases.
We manufacture a complete range of bespoke and standard wooden staircases from simple standard straight staircases ot bespoke circular wooden staircases. Prices can start from less than £100 for a simple short straight staircase to well the sky's the limit . As a guide we offer a very wide range of specifications and the price variances can be very different for example a straight staircase in Pine with MDF treads and a simple Pine handrail with standard square newel posts and balusters is around 1/20 of the price of our X-Vision flagship staircase.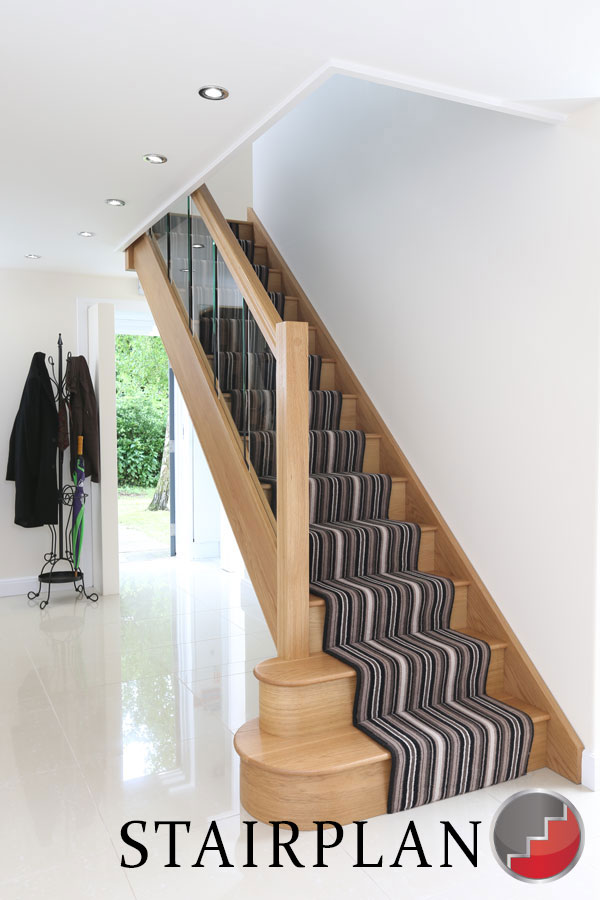 Houston Oak Staircase with Glass Balustrade, The Houston staircase is available to see in our Showroom
Oak Staircases are currently the most popular hardwood staircases produced within the UK. Premium White Oak Edgelam materials - Visit us to see the difference.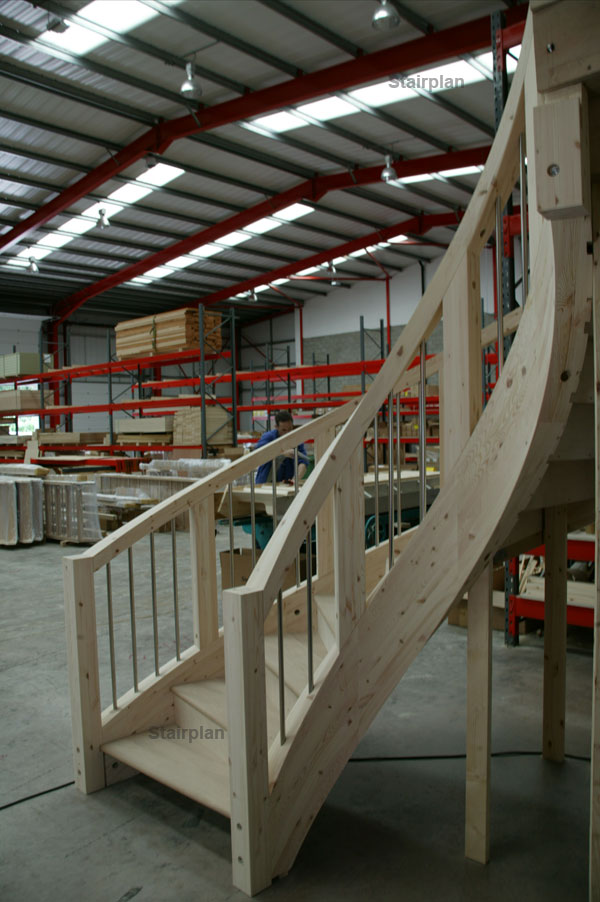 Our skilled craftsmen are assisted by our state of the art production workshop where we have the latest in CNC machinery allowing us to produce our staircases to engineering accuracy and maintain a consistent quality.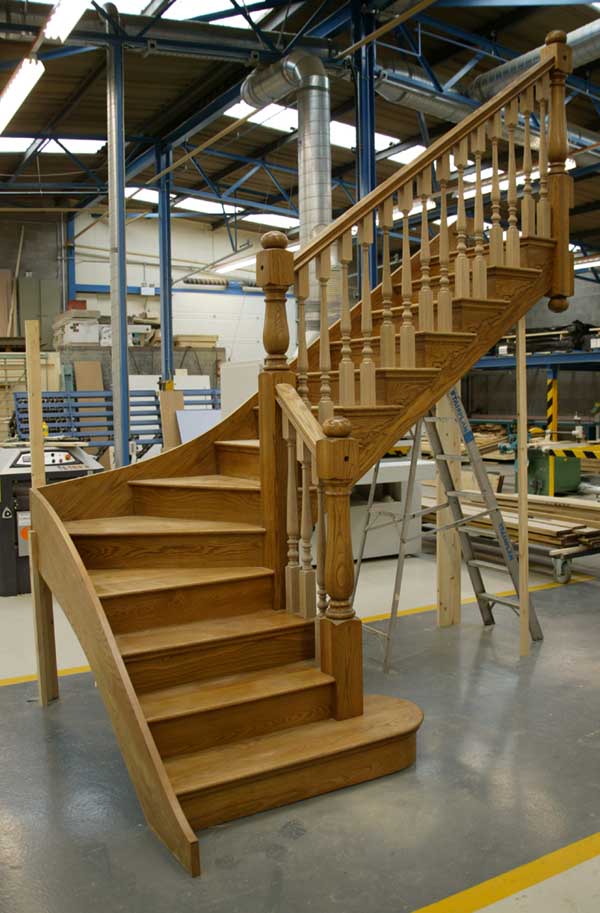 Above you can see the Prescott Staircase, this is a bespoke Oak Cut String Staircase. The layout of this staircase is described as a single winder staircase (Right Hand turn). The Entry Step is a Double Curtail Step .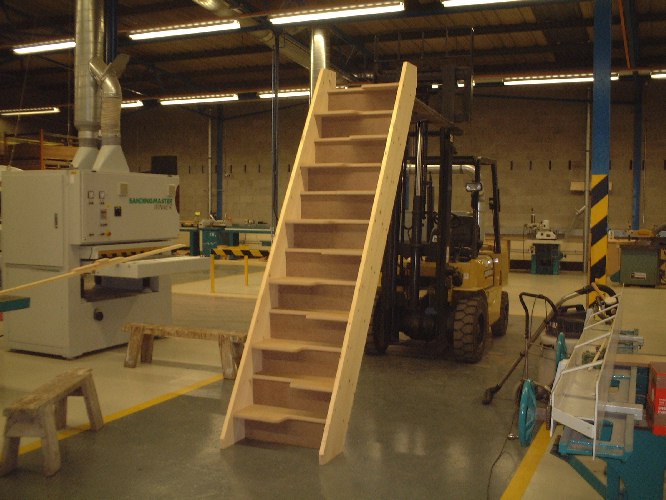 We also offer a full range of wooden space saving staircases. Space saving staircases are suitable for loft conversions. Take a look at the building regulations to see if your loft conversion will pass for the use of a space saver staircase.
Take a look at our Staircase Ideas Page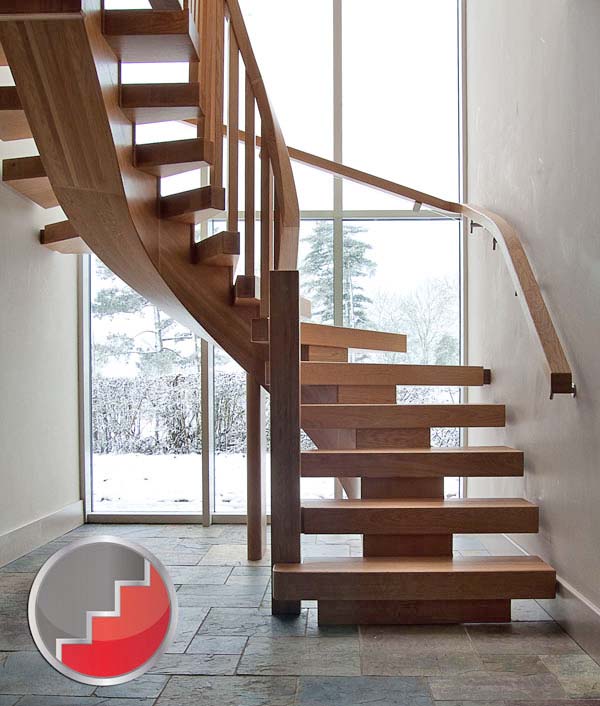 Above you can see a Bespoke staircase this is a X-Vision Staircase with a curved centre spine stringer.
A feature staircase in wood offers warmth and character to a home, the choises of wood we offer our stairs in is vast but our main production materials are American White Oak, European Oak, Black Walnut, Ash, Beech, Sapele, Iroko, and Pine.
Simple Craftsmans Pine Straight Staircase - Treads and Handrail Upgraded to Oak and Strings, Newel posts and risers primed white.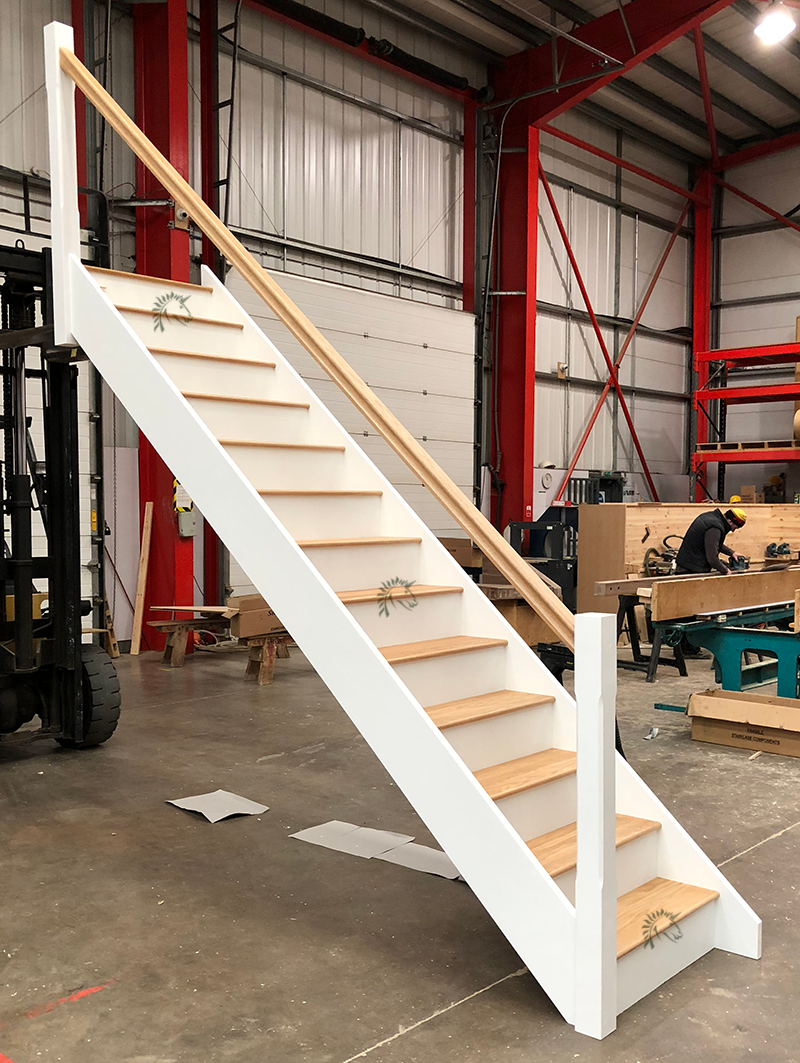 Watch a video guide for installing a staircase like the Craftsmans Staircase above.